Sportsmesh, Netting and Sporting Products (Gates are available to match all designs)
We have a wide range of Sportsmesh, Netting and other products specifically designed for use in sports activities. These are functional yet attractive and provide a long life in testing conditions. Rebound panels in our Kinsale range for example are designed for heavy use in all-weather pitches
We have over 40 years' experience and know the uses, strengths and limitations of the products on the market.
Where a facility is to be used for many years by a community, club or institution selecting the right product that will maintain its functionality for as long as possible is a key decision.
Look through our products in this section and contact us at any of our offices, if you need any further information. You can download catalogues, drawings and specification for all your sports products on the following pages. Gates are available to match all our Sports mesh systems.
Kinsale Sports Mesh
Kinsale Twin Wire 868 Sports mesh is a very robust product allowing excellent visibility it also comes in a lighter 656 construction.

Kinsale Combo Mesh & Netting
Kinsale Combo is a combination of our Kinsale Sports mesh and Irfen Netting which can create a highly cost effective perimeter.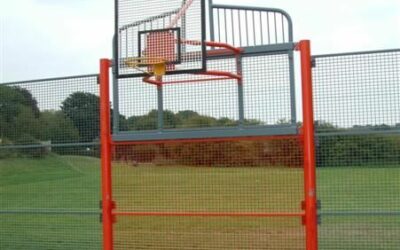 Kickshots – For Strength
Our Strongest Sportsmesh Product, this is designed specifically for use in areas where vandalism can be a problem.
Netting Solutions
Netting Systems are designed mainly to contain sport balls of various sizes within a defined area. Can be stand alone or combined.
Sports Ground Products
Our Dugouts, Spectator Stands, Spectator Rails and designed goals will enhance and complete your club development.
Chainlink Woven Mesh
Chainlink Fence 50 x 50 diamond woven mesh. Used extensively in Tennis courts where it prevents the ball returning dangerously.